How to clear your Browser Cache
Web apps that run in your browser use the browser cache to save their settings and files.
If the Autochartist web components are not running or looking the way they should, the issue could be that your browser has old files in it's cache.
By clearing the cache, you are "refreshing" the Autochartist Web Components.
Note:
Only Clear the cache, DO NOT clear browser history or cookies as this may make your browser "forget" some settings on some pages.
These instructions are somewhat Browser specific, but they usually all start the same way:
Open your Browser
Press [Ctrl], [Shift] and [Del]

Microsoft Edge
Select "temporary services and files".
Confirm your selection by clicking on the "delete" button.
Opera
Select "since installation"
Check the Option "Images and Files in Cache".
Click "delete browser data".
Explorer 11
Remove all checks except "Temporary Internet files and website files"
Click on Delete"
Mozilla Firefox
Select "Everything" in the drop down by Time range to clear
Untick all the options except Cache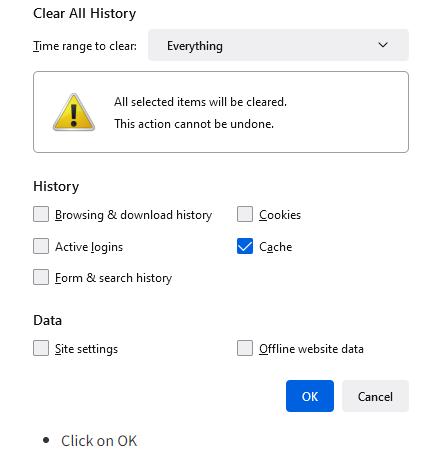 Google Chrome
Select "All time" from the Time range Drop Down
Untick all options except "Cached images and files"